A Material Made for Extraordinary, Far-future Architecture and Design
Architecture today not only aims for functionality but also form. And when it comes to form, nothing is more eye-catching than buildings and structures that bring to mind the awe and wonderment of the future. Architecture inspired by the future is not just about metallic high-rises and glittery flashes of light alone. Buildings that invoke visions of the far future tend to combine organic and harmonious designs with materials that are at once versatile and capable of realizing as well as showcasing such creative designs.
In this context, aluminium's sheer versatility and durability has allowed talented architects and builders to creatively utilize this material to fulfill their imagination in innovative and futuristic building designs previously unimaginable and improbable to achieve with other building materials. Indeed, futuristic building designs utilising aluminium is already making their prominent mark in the world architectural landscape.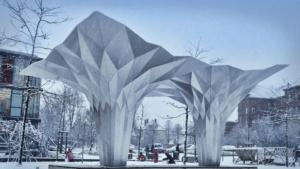 Artistically folded aluminium sheets
Architect Tal Friedman's Origami Pavilion folds thin but rigid aluminium boards into geometrically shaped shelter structure. He is inspired by traditional Japanese art of origami folding. According to Friedman's official website, this fully self-supporting structure comprises multiple pieces of aluminium boards, with each folded piece containing up to 20 interconnected surfaces. This technique saves fabrication time and increases building tolerance. And it is a departure from the current widely used technique of using individual panels to form the required structural design.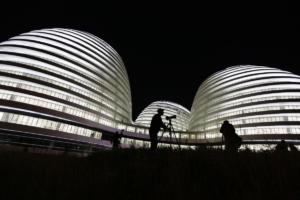 Flowing and fluid aluminium-clad facade
In Beijing, a 300,000 square-metre commercial building stands out from its peers for its sheer shiny, futuristic exterior. The award-winning Galaxy Soho by famed architect Zaha Hadid is an aluminium-clad graceful building that "comprises four main domed structures, fused together by bridges and platforms between curving floor plates. It is creating a fluid environment that surrounds a series of public courtyards," according to Dezeen.com.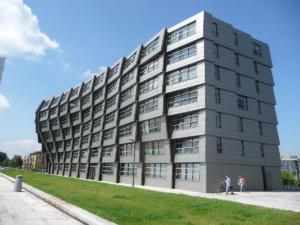 Step arrangement forming asymmetrical wave design
In the Netherlands, a unique residential apartment building utilities coil-coated aluminium corrugated sheets to create a façade that is ultramodern. The Wave, located in Almere, is asymmetrical and appears misaligned from the outside, with no wall seemingly straight and smooth. Aluminium is shaped and arranged horizontally and vertically into "steps", leading a scale-like appearance that is reminiscent of a wave for the building's facade. Aluminium's durability and corrosion-resistant property makes it the perfect material for Netherlands due to the country's proximity to the sea.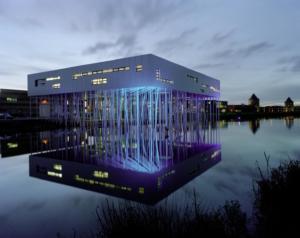 Metal "trees" rising from the waters
Ever imagined numerous spindly aluminium columns resembling "trees" holding up a building? The Aluminium Centrum in the Netherlands, designed by Micha de Haas architects, is just such a creative structure set out to showcase the strength and lightness of the material. 368 spindly aluminium columns rise from the ground to form a forest of metal "trees". These six-metre tall columns stretch across an artificial lake, supporting an aluminium-clad concrete and steel building with no additional bracing necessary. It is showcasing the sheer strength of the aluminium supporting structures.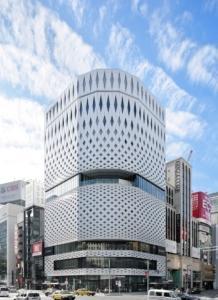 Dramatic Ginza Place made up of aluminium cladding
Ginza Place in Tokyo is an eye-catching white building made up of a latticed façade that glows white in the light. The façade design of this 11-storey structure is inspired by the traditional latticework weaved baskets and other tableware. Bringing this design to creative fruition are over 5,000 aluminium panels arranged to form the intricate weaved design. "Each panel is made from plate aluminium that was folded, welded and powder coated white, then fixed to bespoke metal substructure." Apart from the aesthetics of design, such framing system allows aluminium panels to shift in the event of an earthquake.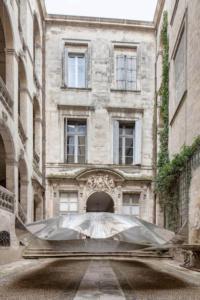 Floating metallic cloudscape that sways in the wind
Aluminium's highly flexible and sculpt-able characteristics attracted many modern designers using it in sculptures and other artistic installations that enhance buildings inside and out. Take for example the floating cloudscape structure by FAKT studio. This architectural installation was created for the Festival des Architectures Vives. The creative designers take advantage of aluminium's flexibility to a create metallic form that invokes curves and softness. Made out of two perforated aluminium sheets of a mere 2mm thick, this cloud structure hangs from surrounding buildings using thin wires attached to each corner, allowing it to sway gently in the breeze.
As one of the leading rolled products producer in Malaysia, Alcom supplies a wide range of coil and sheet for general engineering, architectural, construction and manufacturing industries. Our coil, sheet and plate are characteristically tailor-made to suit customers' preference.
Please follow and like us: