When Aesthetics Meets Aluminium
There's more to aluminium as a building material than meets the eye. Normally chosen because of its functionality and durability, aluminium is also able to lend itself to some very creative and beautiful designs, both inside and outside a building structure.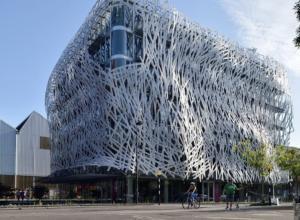 Aluminium in Façade
The versatility of the choice of cladding for structural facades play a big role in a building's aesthetics. Aluminium is a façade material that provides such a high design flexibility that it is increasingly one of the top choices of architects around the world. The flexible, moldable property of aluminium allows for a high degree of design customisation. Also, aluminium combines well with other materials such as glass to provide architects with boundless creative combinations that can range from timeless to futuristic.
Local developers and architects have been exploring the versatility of aluminium and incorporating the material in many high-profile projects over the past decades. Whether it is for the world-famous Petronas Twin Towers, classy five-star international hotels in downtown Kuala Lumpur, or the artfully cladded pillars mimicking tropical raintrees at the Kuala Lumpur International Airport, established Malaysian manufacturers and suppliers of rolled aluminium architectural products such as Alcom are able to meet the needs of the most imaginative of architects keen to explore aluminium in structural facades.
For inspiration, think delicate aluminium louvre systems that are at once functional (sun, temperature control) and decorative (layered, textural aesthetics) when used in the exterior of buildings. Think gracefully curved aluminium pearlescent cladding reflecting under the sunlight. Think intricately perforated, latticed or even pleated aluminium panels that give a building a uniquely artistic vibe inspired by tradition or, simply, by imagination. In short, the application of aluminium in building facades is endless – endless creativity, endless versatility.
Shanghai tower in pleated aluminium
Aluminium in Roofs
When it comes to innovative roof designs, aluminium is able to bring to fruition the creative imagination of architects. The material's malleable property means that aluminium can be shaped into a variety of styles and designs, for example, in the shapes of shingles, tiles, interlocking shakes as well as straight and curved panels.
A diversity of colours and coatings also allow aluminium to be utilised in a wide range of roof styling options: curved shingle panels mimicking a traditional roof design, rectangular or square aluminum sheets for a sleek and modern streamlined look, coloured cladded panels reflecting a pearlescent lustre under the sunlight or acting as the perfect showcase for illuminating LED lights in the night.
In addition, the sheer versatility of the material can give rise to aesthetically eye-catching geodesic domed roofs as well as space-grid roofs, both of which can be seen topping world-class mosque structures as well as massive sports arenas around the world. The brilliant gold-and-blue dome of Kuala Perlis' iconic floating mosque (Masjid Al-Hussain) is one such local example. Other creative roof uses can include moulding aluminium into angled fins to form slatted canopies over verandahs and terraces to achieve shading function and focal interest at the same time.
Aluminium in Interior Design
Beyond facades and roofs, an increasing number of architects and designers have branched into using aluminium as a material for interior design. In fact, aluminium can be applied in a wide variety of ways within the interior, limited only by imagination.
From being utilised in fittings and enclosure systems to being used in pre-formed interior structures. Commercial fittings such as those for handles, frames and railings, aluminium can be adapted to appear in almost every nook and cranny within a home or building. Other applications include lighting, kitchen and bathroom fittings as well as furniture and furniture parts. In addition, outdoor design use is also common – awnings, garden and swimming pool fittings being some good use of aluminium pre-formed structures.'
Creative artists have also thought out of the box by using aluminium as the main crafting material for furniture such as chairs (slatted, curved aluminium backs give a very strong designer feel) metal cabinets (throwback to retro), decorative reliefs (inspired by cultural motifs) and even in form of creative tableware and cutlery. Indeed, coated or even painted aluminium panels are frequently utilised within the interior of homes and commercial buildings as creative interior installations. All in all, aluminium is a material that gives off a modern and minimalistic vibe, which suits many contemporary home owners today.
City View Garage, Miami
Please follow and like us: