Aluminium Plate Moves Into the Home
Aluminium plate is a common material in industrial settings. Nowadays, architects and contractors begin to consider the material for home use. However, tread plate is rarely used in private home construction. If you are a homeowner, you may need to further learn about aluminium to be able to ask for it by name.
Manufacturers may refer to it by several different names. This includes aluminium checker plate or floor plate. It is also named as diamond plate, despite the absent of diamond in the material. On a side note, aluminium tread plate may be made from any metal. However, it is typically created from aluminium.
Benefits of Using Aluminium Plate
Most people may be curious of the origin of the name diamond plate. The name is obtained from the pattern of raised ridges being stamped into its exterior. On the surface of a simple metal panel, manufacturers create a regular design such as small dots, short lines or whorls across one side. The raised design improves grip very well without upsetting its cleaner.
Quick Cleaning
One of the very significant benefits of using tread plate for homes is quick cleaning. Thanks to its material, aluminium, the cleaning process is simple. You would get a clean surface simply by hosing it off with water. No special solvents or maintenance is necessary. The simple cleaning procedure means it is perfect for areas that are often dirty or dusty. To name a few, decks, garages or workshops.
Simple installation for DIY
On top of that, significant durability is also the other upside of using aluminium tread plate. Different from concrete, tread plate will not crack. Unlike glass blocks, it will not shatter. Dissimilar with wood, it will not splint. It generally comes in individual panels, so a single broken panel would never trouble homeowners to tear up an entire floor or wall to fix it. If a homeowner does damage a panel, the problem would be solved simply by hammering out the dent and replacing it with a new individual panel. This could save a good sum of property owner's money purchasing a replacement.
Being sold by the panel, it can be installed quickly by most contractors. Checker plate is typically fastened with glue or screws, and no special tools are necessary. Do-it-yourself homeowners are able to install these panels on their own. Some panels even have interlocking edges like puzzle pieces, so homeowners simply need to lock the panels in place.
Significant Durability for Indoor and Outdoor
Aluminium tread plate generally has excellent corrosion resistance. It may be coated with a special chemical layer for additional protection. Aluminium does not rust like other metals. Thus, the metal is suitable for use in indoor or outdoor projects.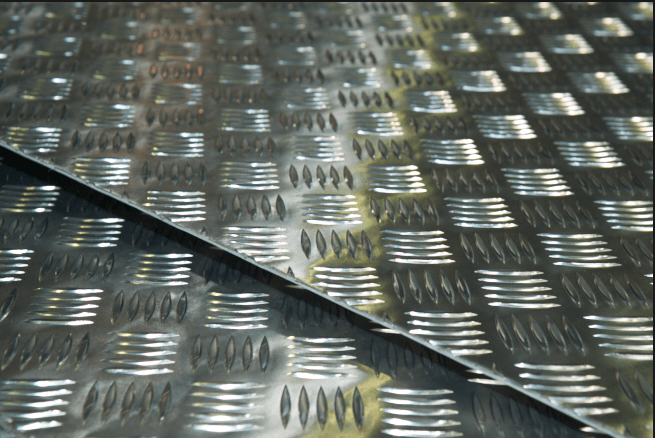 Aluminium Plate for Home
Aluminium tread plate may be used in or around the home for:

– basement floors
– boat docks
– exterior stairs
– garage floors
– garage walls
– workshop floors

Although aluminium tread plate is currently not the most common material for home construction, the material provides a number of benefits. Homeowners may consider this plate as a viable construction alternative to concrete, synthetic stone, and treated lumber.
Author : Perry Keenan
Edit by : Sim Xin Hui
As one of the leading rolled products producer in Malaysia, ALCOM supply a wide range of coil and sheet for general engineering, architectural, construction and manufacturing industries. What's even better, ALCOM's coil, sheet and tread plate are characteristically tailor-made to suit customers' preference.
Please follow and like us: