Awesome Art Created By Recycling Aluminium Cans
For most, an empty can is a piece of trash. For the more artistically inclined, it is an opportunity to create. Here are 5 pieces of art created by recycling aluminium cans.
Aluminium cans are among the most recycled materials in the world. Aluminium is highly recyclable, from melted down, recycled and put on shelf, taking just 60 days. But what happens when people with a keen artistic eye come across a bag of old cans waiting to be crushed, melted and re-used? They see opportunity – a raw material to be repurposed for creative expression. Let's have a look at 5 awesome pieces of art created by recycling aluminium cans.
Butterfly Beer Cans Art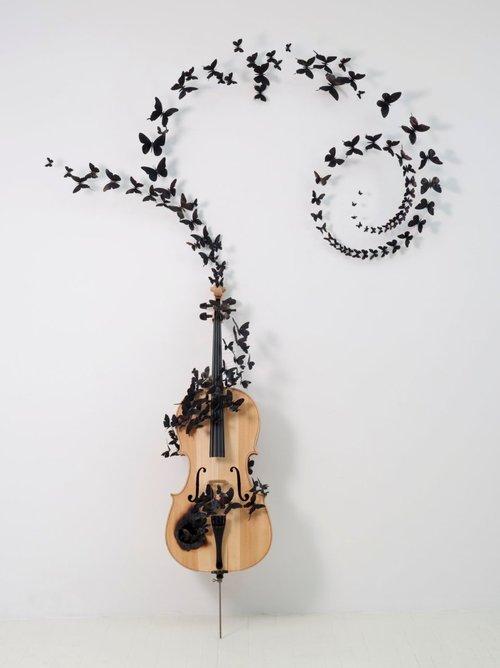 New York artist Paul Villinski is taking recycling aluminium cans to a wonderful new place. Utilising the wealth of materials you can find on the New York streets to his creative advantage. Villinski collects discarded beers, cuts them out into a variety of butterfly shapes and attaches to them to wire to give them a three dimensional element. Some spiral off walls, others stream from floors to ceilings; for Villinski "[the] pieces explore themes of transformation and recovery through the metamorphosis of crushed beer cans from the streets of New York into flocks of realistically crafted butterflies."
The Beer Can House in Houston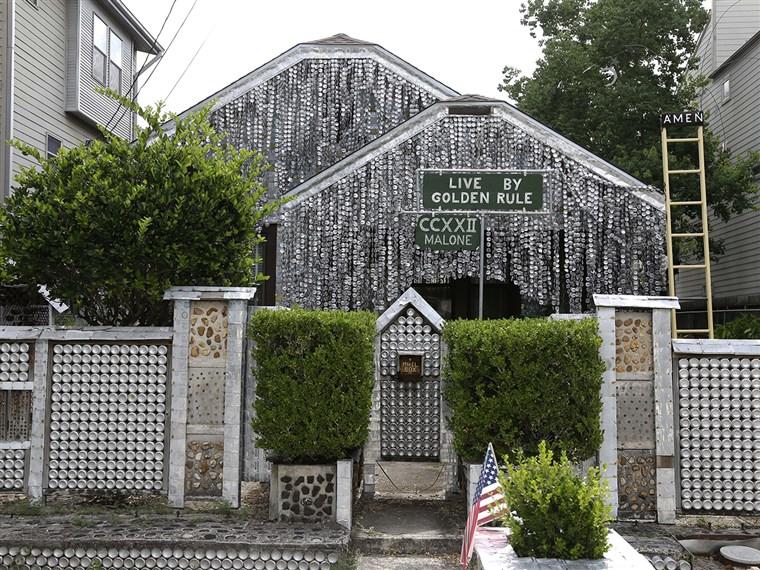 Texas is an iconic landmark that thousands flock to every year. John Milkovisch started his project now known as the Beer Can House in 1968. Milkovisch collected wood, rocks, marbles and metal that he placed around the front and back yards of the house. He used the collection to form unique features and dazzling designs. After he covered the yards, he began working on the house, cover every square inch with aluminium beers cans. Over 18 years Milkovisch collected approximately 50,000 cans and placed them carefully around the house – to great affect. Milkovisch says he considers the project merely a pastime rather than a work of art. We beg to differ.
The 1965 Ford "Budweiser" Mustang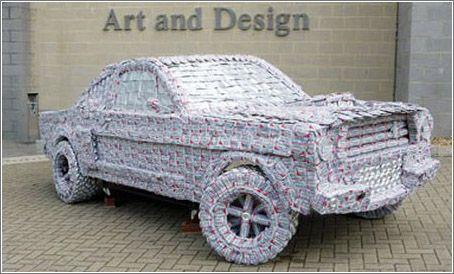 Back in 2007, UK art and design student Jack Kirby built a replica of a 1965 Ford Mustang out of 5,000 Budweiser beer cans that he "collected" (drank) over a four year period. Budweiser were giving away a 1965 Mustang as a promo for anyone who bought their 'Budbucks' cans or bottles. And Kirby thought he'd stand out from the crowd by building his own facsimile of his favorite car. Unfortunately he didn't win, but he certainly put his art degree to good use.
Makaon's Collection of Aluminium Cans Sculptures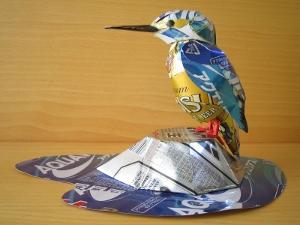 Japanese artist Makaon is taking recycling aluminium cans to a whole new level. His sculptures are incredible, all made entirely from can off-cuts. His miniature replicas are astoundingly detailed! He used beer and soda cans to create models of animals, superheroes, villains and mythical creatures.
Dragon Made From Soda Aluminium Cans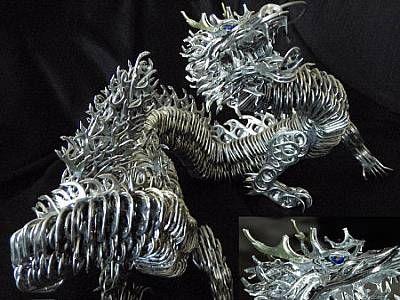 This creature below is named Shinkonryuu, and he is a dragon made from hundreds of aluminium drink can pull tabs. It was built by amateur Japanese artist/sculptor OniMusha Kid (this was only his second piece) and is about 14 inches long and 8 inches tall. Shinkonryuu is an energy-feeding being, and his creator says that it "inhabits the spirit of a person, where [it] obtains the necessary energy to live. When a person dies [it] moves to a new spirit."
ALCOM, the largest manufacturer of rolled aluminium products in Malaysia and a leading supplier in the Asia Pacific region, offer wide range of aluminium products.